Saugeen River Canoe Route
Lobies park to Brant Concession 8
(paddle time 3hrs)
This is the longest section of the Saugeen River uninterrupted by bridges. With that sense of remoteness and the great swifts in this section it's a favorite among locals for floating on down the river on a hot summer day. The river winds out of Walkterton around several islands. In the spring paddlers may choose one of several channels around these scenic islands but as summer goes on it is wise to stay to the deeper main channel. In the couple km out of Walkerton the river travels through a marshy area with several overhanging trees and wildlife. the Saugeen meanders through a broad valley between densely forested hills. In places, the river actually cuts into these hills, creating tall clay-sand bluffs, which provide a home for thousands of swallows, kingfishers, and other cliff-dwelling birds. As the river carves its way throughout these bluffs, it becomes constricted, creating some of the most exciting rapids on the river. While these rapids are not difficult or dangerous, they do provide excitement to the novice and veteran paddlers alike.
Approaching the bridge on the Brant Concession 8, the bluffs diminish and give way to mixed farmland and forest. In this area it is possible to see deer and fox along the banks.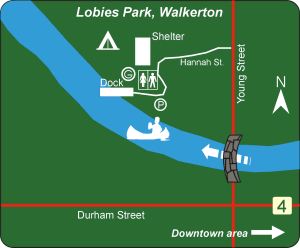 River Access
Lobies Park
Location: Along the west side of Young St, north of Durham St.
Directions: When coming north on Hwy# 9,follow hwy#9 and straight into Walkerton, At the lights on the main street of Walkerton (Durham St.) turn left (west) than right on Young St. The entrance to the park is on the left.
Coming from Hanover on Hwy 4, follow into town turning right onto Young St. The entrance to the park is on your left.
Facilities: Dock, parking (40 cars in the field behind Lobies Park sign, camping grounds flush toilets and picnic shelter.
Description: Dock and floating dock, parking, no signs for this facility.
< Maple Hill Dam to Lobies Park
> Brant Concession 8 to Brant Concession 10