Saugeen River Canoe Route
Ellengowan to Downtown Paisley
(paddle time 3hrs)
The first section before Paisley passes through more mixed farm and forest. Shortly after the Ellengowan bridge is McBeath Conservation Area. McBeath is a river-access-only park that offers camping, picnicking and washroom facilities to the public by donation. McBeath is a popular overnight stop for any multi day trip. From McBeath, the river takes a winding path to Paisley,coming right up beside the town and then swinging back away before making its way into the village. The village of Paisley was settled on the Saugeen River over a century ago, and the river still remains a focal point of the town. Several canoe docks line the river as it travels through the heart of the town. One of these is the Rotary Park: a scenic campground in downtown Paisley. For those looking for a lunch break, a canoe dock is situated just bellow the restored Fire Hose Tower, before the set of bridges in Paisley. A sign has been placed at this dock giving directions to the town's many services and quaint shops.
McBeath Conservation Area web page (opens new browser window)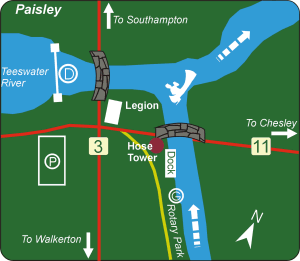 River Access
Paisley Down Town
Location: Behind the old fire station, next to Thompson Bros. Furniture, on Water St. east of Queen St.
Directions: When coming north on Hwy# 9, take the County road #3 (Elora Road) turnoff just past the town of Mildmay. Follow County road #3 to the town of Paisley. Turn right on County rd #11 than an immediate right behind Thompson's Furniture the dock is on the left.
Facilities: Parking (2 cars along the road or you can park in the town lot behind the old Hotel), river access dock, picnic table, garbage can.
Description: River access is 15m. down the bank (part of it is steps) to the floating dock. Roadside parking is limited.
< Brant Concession 10 to Ellengowen
> Downtown Paisley to North end of Paisley